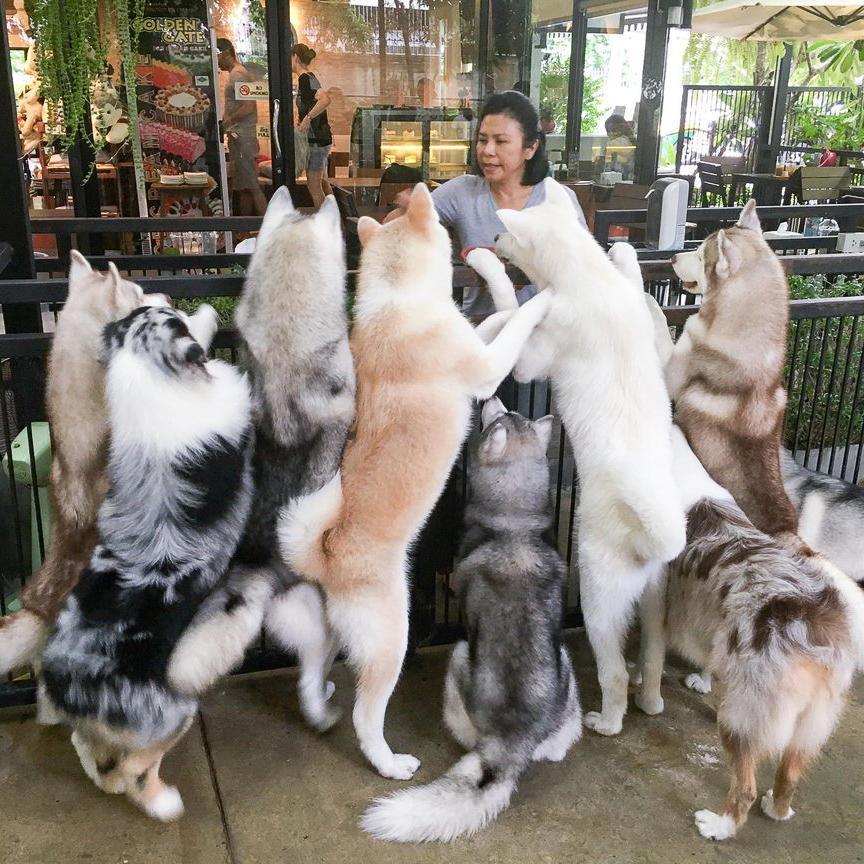 Most people would have heard of the growing trend of Cat Cafes but TrueLove at Neverland Husky Cafe is so much more up our ally. The Husky Cafe is managed by former Thai Husky breeders and there are around 20 Huskies as well as a few Akitas, Australian Shepards and one small fluffy pup.
As a Husky owner I tend to get tagged in various articles, photos, and videos about Huskies (I am not a crazy dog lady!), and last year when I was tagged in a post about the Husky Cafe I decided to visit during a trip to Thailand.
The Husky Cafe is located in a nice suburb in Bangkok and it was interesting to see the majority of visitors there were local Thai people who seemed more interested in the food and drinks than the dogs.
I'm always a bit hesitant about animal tourism so I ummed and ahhed about going but I'm happy to say the dogs at the Husky Cafe are extremely well looked after!
There is little interaction between visitors and the dogs and a number of procedures in place to ensure the pups are safe and happy. 
During opening hours dogs come into a fenced exercise area where visitors can watch them but it is only one hour at the end of the day where people can enter the exercise area and interact with the dogs. I liked that interaction was restricted like this as it means the dogs do not get overwhelmed or over-handled.
All visitors have to sit through an information video and are required to wear plastic shoe covers and sanitise their hands to reduce the risk of introducing bugs to the pups. No food is allowed to be fed to the pups and there are a number of staff members who supervise all interactions. 
The facilities were clean and well air conditioned and the exercise area had plenty of shade and even had several fans running to keep the dogs cool. 
The highlight of the experience was watching all the dogs make a mad rush for dinner at the end! 
Now to try to convince someone to start one of these cafe's in New Zealand!