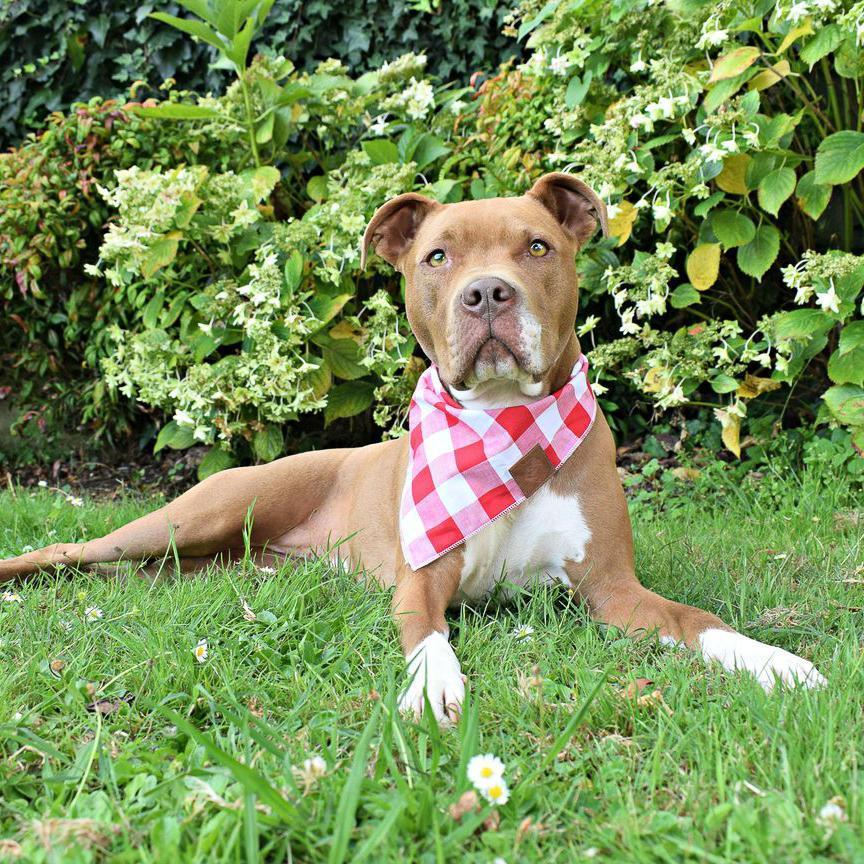 We recently watched "The Champions" documentary on Netflix which is a heart-wrenching story about Pitbulls rescued from the brutal fighting ring of former Atlanta Falcon's star quarterback Michael Vick. The documentary addresses the issue of breed specific discrimination in America and we thought we'd look in to similar discrimination in New Zealand and talk to some of the people working hard to give all breeds a fair chance.
The history of breed discrimination 
Throughout history a number of different breeds, from German Shepards to Rottweilers, have been labelled as dangerous or menacing, but no breed discrimination has been as long-lasting than that against Pitbulls. 
Pitbulls originally we nicknamed "America's dog" and were favored for their remarkable loyalty and affability. Their affinity and gentleness toward children  inspired a second nickname: "the nanny dog."
However everything changed in the 1980s when dogfighting resurged and Pitbulls were exploited for this purpose. Hyped up media coverage and inaccurate information led to misconceptions and the label of dangerous.
This is despite Pitbulls being near the top of the results in the American Temperament Test Society's 2010-2011 study with a pass rating above 121 other breeds of dogs, including Golden Retrievers!
Breed specific legislation in New Zealand
Currently New Zealand law bans the importation of breeds including Brazilian Fila, American Pitbull Terrier, Japanese Tosa, Dogo Argentino, and Presa Canario, and requires these dogs be muzzled while out in public and  microchipped.
In 2016 the Government announced that it was considering introducing more extensive dog control legislation which would target specific breeds. 
Breed specific legislation is generally a response to overblown media attention paid to unfortunate dog-bite incidents and stereotypical view that certain breeds of dog are more prone to dog aggression.
While it may be an attempt to improve public safety there are numerous studies which show that breed specific legislation is ineffective and it undoubtedly ignores the fact that there are a multitude of factors that may contribute to dog-bite incidents such as a lack of training or socialisation, and whether the dog is de-sexed.
All dogs have the potential to bite and it seems that the issue is more with the dog owners as opposed to the actual dogs.  
The issue we have with breed discrimination is that it can lead to the death of beautiful innocent dogs and it tends to taint the public's opinion about specific breeds without even giving those dogs a chance to prove themselves.
We've actually had the pleasure of meeting HUHA's two Dogo Argentino (a breed banned in New Zealand), Casper and China, and can say that they were far from menacing or dangerous, and were beautiful dogs to spend time with. 
Hazel the Pitbull
Being Husky owners we are far removed from the every day effects of this sort of discrimination so we thought we'd get in touch with one of New Zealand's lead advocates for Pitbulls - Hazel!
Hazel was rescued as a puppy from Waikato SPCA in 2013. Her owner, Alanna, specifically wanted a Pitbull and it's lucky she came along as otherwise Hazel may have been euthanised like so many other Pitbulls or mix-breeds that find themselves in dog shelters or pounds across New Zealand.
Despite her loud snoring, Hazel is Alanna's best friend and its Hazel's unconditional love and gentleness that reaffirms that adopting her was the best decision Alanna could have made. 
However, Alanna was well aware of how Pitbulls like Hazel were stereotyped and she was determined from the very beginning to work hard to show people that they can be great pets. 
From this started Hazel's Facebook which now has nearly 14,000 followers from across the globe. Alanna uses this platform to educate about breed discrimination and advocate for positive Pitbull awareness. 
We are very passionate about teaching people that they should not judge a dog by its breed and rather, each individual dog should be judged on its own temperament.
To continue educating the public on positive Pitbull awareness Alanna released their first children's book in 2015 called 'Hazel The Pitbull goes to the Vet', and in 2016 'Hazel The Pitbull – Adventure to the Beach' was published. These books are great educational resources and are available to purchase on Hazel's website with all proceeds going back to Hazel's charity.
A third book focusing on the work Hazel does as a Pitbull advocate, 'Hazel The Pitbull - Diary of A Dog Ambassador', is due to be released in April 2017. 
The advocate work Hazel and Alanna do is endless! They attend events across the country so people can have the chance to meet Hazel and they regularly visit a local rest-home where Hazel works as a therapy dog.
In addition Hazel is the inspiration behind The Hazel The Pitbull Foundation, a registered charity which raises money to aid other rescue organisations and runs a foster programme.
Through the foster programme Alanna takes on one or two young puppies at a time to spend time with Hazel who Alanna says mothers puppies as if they were her own. The foster puppies are cared for and are introduced to as much socialisation as possible to help them find their forever permanent home.  You can check in and follow the foster puppies' progress on Hazel's Facebook.
There's no doubt that Hazel is sweet and gentle but Alanna says she still regularly faces breed discrimination. Often this sort of judgment comes from people who have never owned or even met a Pitbull and Alanna encourages people to meet Hazel or other dogs before judging them on inaccurate sertotypes.
As for Alanna's views on breed specific legislation she says the law should focus on irresponsible owners of all dog breeds and not target specific breed due to the way they look.
Any dog can be dangerous and its up to the owner to train and socialise their dog. Owning a dog is a privilege not a right. I hope that one day the law will change and innocent dogs will not die due to the fear of humans. 
We're well aware that some people will have differing opinions to us, and that's fine. These opinions may be based on experience or just on the information portrayed in the media. Either way, there is no denying that Pitbulls like Hazel are beautiful pets.
Ultimately the responsibility for preventing dog aggression lies with the owners. As dog owners we have the duty to ensure we train our dogs, that know them well enough to be aware of what may trigger certain behaviour, and that we supervise them accordingly.
Every dog deserves the chance to prove themselves.
If any of you need more convincing we recommend taking a look at Hazel's Facebook and "The Champions" documentary.
As with all our posts - we're not experts but just offering some food for thought!