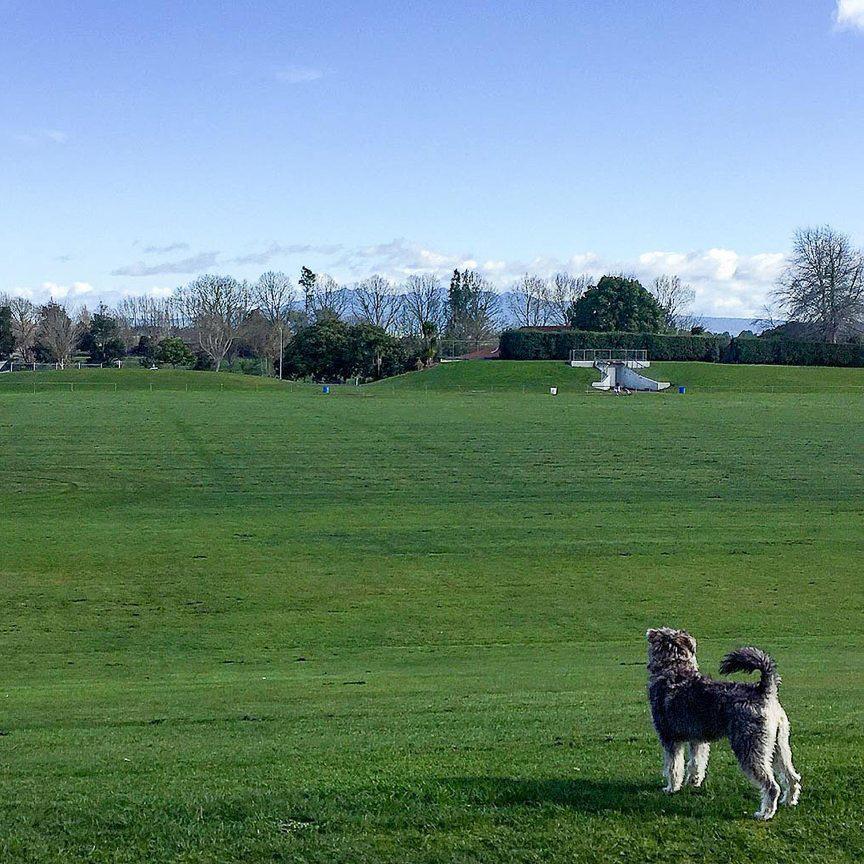 This post is written by guest contributor Charlotte Warren and her pup Marty!
. . .
As a Brit, I was used to being able to take my family dog EVERYWHERE with me. Whether it was out for a stroll on any public beach or next to the fire in the pub on a rainy day, it was just the norm. So, last year, when we got our own pooch here in New Zealand, I had to adjust my thinking towards dog-walking.
Luckily the place we call home, Hamilton, has some great dog parks and onlead walks which I am sharing here for fellow Hamiltonians or visitors to the Tron.
Resthills Park
Resthills Park has to be my favourite dog park in Hamilton. Not only is it huge with differing landscapes, but it's also super close to my house. If you don't live in the Glenview area it's well worth the drive!
My wolf enjoys mad runs across the grassy fields, but there's also wood/ bush areas too to sniff and explore. Large puddles make an appearance on rainy days, which only adds to the fun.
There are three separate large areas that are off-leash dog areas most of the time. You just have to make sure there aren't baseball or rugby games going on in the sports section - if not, free reign for doggo, if so, the gates will be closed and half the park is still off-leash. These games are usually just one weekend day.
Depending on the time of day you go, you could meet a few other pups, or - especially on a rainy day - you might have the park entirely to yourself. It's definitely well-used by locals (we have a local pack that our pup joins on weekday afternoons), but other dog-owners that I've spoken to often aren't aware of its existence, which is such a shame.  
Access points include John Webb Drive (which has a car parking area right next to the park), Sunnyhills Avenue and Macmurdo Avenue. 
Day's Park
If you're a dog owner in Hamilton then you probably already know about the fantastic place that is Day's Park. For newbies to the city or out of towners, this is the place if your pup wants to party.
Admittedly, I have only ever been able to make it to Day's Park of a weekend, but whenever we have gone it has been full of dogs wanting to play. There's a large grassy area with pathways to walk along, as well as access to the Waikato River for your dogs to have a splash around. 
Access is off River Road, and there's a small car park opposite Perindale Drive as well as lots of on-road parking.
You know a dog park is good when it's #16 of things to do in Hamilton on Trip Advisor. I promise that's an indication of how much everyone loves this park as opposed to a poor indicator for the city!
SO. MUCH. FUN.
Innes Common
Innes Common is smaller off-leash option than the above two (which, to be quite honest, do spoil us), but a good spot for your wolf to have a run around before going for an on-lead mosey around the beautiful Hamilton Lake.
Make sure you don't let your doggo drink from the lake as it has been potentially linked to some illnesses - there are signs up around the lake with more information.
Also, if you venture to this area be sure to remember that dogs aren't allowed in the massive children's play area (but you can walk the entirety of the lake's path). 
There are car parking areas all around the lake, including a car park next to Innes Common and one next to the children's play area and cafe, which will happily provide fido with a bowl of water whilst you sit on the deck with your coffee.
 Braithwaite Park
Braithwaite Park is at the Pukete end of town and is another smaller but beautifully located dog park.
It's part of the Te Awa - the Great NZ River Ride, which will eventually reach from Ngaruawahia to Horahora. Much of this is open for use already; see here for more details if you would like to go cycling with your wolf (ours did a section through Hamilton with us, but his little legs wouldn't want to do much further). 
 Braithwaite Park is a good option for a run around with access, again, to the river. It's a great area if you are in the northern end of the city, or want to incorporate it into a larger on-leash river walk.
You can drive up to this area and park on Totara Drive or access the river walk elsewhere. 
Till's Lookout
Till's Lookout is an off-leash park which has some beautiful views, especially at sunrise or sunset.
You can combine this with a 30 minute walk to Taitua Arboretum which is also dog-friendly, although pups need to be onlead. 
Warning: the arboretum is beautiful - but full of ducks and chickens! Very exciting for my bird-crazy dog (but it tormented him too, being on a lead and surrounded/ followed by these incredibly tame birds).
Access to the Till's Lookout Reserve is via Melva Street. 
Spots Nearby to Hamilton
If you're looking for a day trip or a bit of a tramp, check out the Te Aroha Domain, the Raglan beaches or Lake Ngaroto. 
. . .
So far, these are my favourite dog parks and walks in Hamilton out of those I have visited. There are a couple that I haven't been to yet, so let me know in the comments if there's one I must visit.
You can follow me @charlotte.wj if you want to see which dog parks I visit next and download this brochure from the city council for more information on where you can take your dog - as you can see, there are a lot of plans to open up more dog exercise areas too, which I am sure that me and my wolf, Marty, will be visiting when they do. 
. . .
If you're interested in being a guest contributor flick us an email at wolvesofwellington@gmail.com.